Sometimes it is hard to edit graphic style of your external framework and themes often don't fit your needs completely. That's why we made Business Pack not only easily customizable, but we are releasing a powerful Theme Editor for FREE as well!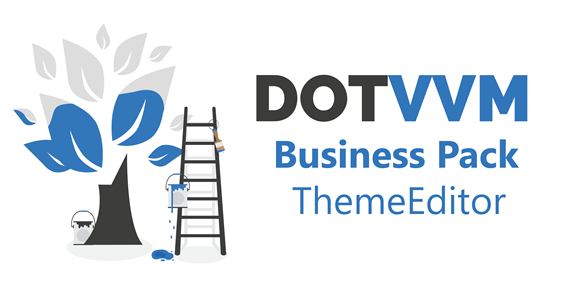 The first idea for the Business Pack Theme Editor originally came from our developers Martin and Standa. They have been working on the DotVVM and the Business Pack for a very long time and together they have great insight into the Business Pack. After initial testing, they brought Maroš, one of our lead front-end developers at Riganti, to the team and together they have created this powerful tool. We were all thrilled when they came with an idea to create Theme Editor and we are thrilled again that their idea is finally done and ready to be released.


Business Pack Theme Editor lets you style almost every aspect of all Business Pack components and see changes in real time. We've prepared very comfortable UI for this, so you don't have to write any code yourself. After you finish styling your theme, you can export it as a .css file to include it immediately in your Business Pack project. We also recommend to export it as .less too, because you can import the .less back into the editor later and make any changes.
Same as the Business Pack, we made this tool to make our life easier while creating new themes and styles. Now we want to share this tool with you. For free.
If you are interested in the Business pack and still haven't requested Free Beta yet, please feel free to sign up here.