Save the date of DotVVM Virtual Conference: April 29-30
Published: 4/10/2020 1:47:24 PM
Interested in building web apps in .NET using an MVVM approach? Don't miss out on our first live-streamed conference!
On April 29 - 30, we'll broadcast six sessions focused entirely on DotVVM. You'll see the basic principles, some cool MVVM tips and tricks, a lot of demos showing interesting DotVVM controls, and much more!
Subscribe to our YouTube channel so you don't miss out any of the sessions!
Wednesday, April 29, 4:00 PM – 8:00 PM CEST (2:00 PM– 6:00 PM UTC)
Intro to DotVVM: What's in it for you
Thinking in the MVVM way
Progressive Web Apps
Thursday, April 30, 4:00 PM – 8:00 PM CEST (2:00 PM– 6:00 PM UTC)
Modernize your Web Forms apps with DotVVM
Static command is your friend
Boost your productivity with DotVVM controls
Roadmap and plans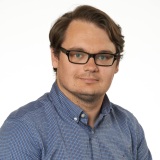 Tomáš Herceg
I am the CEO of RIGANTI, a small software development company located in Prague, Czech Republic.
I am Microsoft Most Valuable Professional and the founder of DotVVM project.