Videos from DotVVM Virtual Conference
Published: 5/24/2020 3:36:51 PM
The sessions from our first virtual conference are published on our DotVVM YouTube channel.
Learn how to build ASP.NET Core web sites with the MVVM approach, see how to modernize old Web Forms applications using DotVVM, and much more.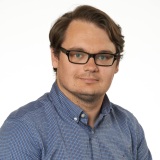 Tomáš Herceg
I am the CEO of RIGANTI, a small software development company located in Prague, Czech Republic.
I am Microsoft Most Valuable Professional and the founder of DotVVM project.