DotVVM for Visual Studio overview
DotVVM for Visual Studio is an extension for Visual Studio 2022 and 2019 which adds support for DotVVM projects.
The extension adds DotVVM project templates, syntax highlighting and IntelliSense in DotHTML files, and more. See the complete list of features.
Free edition vs subscription
The free version of the extension supports basic features, and can be used for both commercial and non-commercial projects.
If you want to build large projects in DotVVM, check out the subscription. It has more features that can save a lot of time.
Try subscription for 30-days
You can try the subscription of DotVVM for Visual Studio for 30 days for free.
In the Licenses section, request the trial version.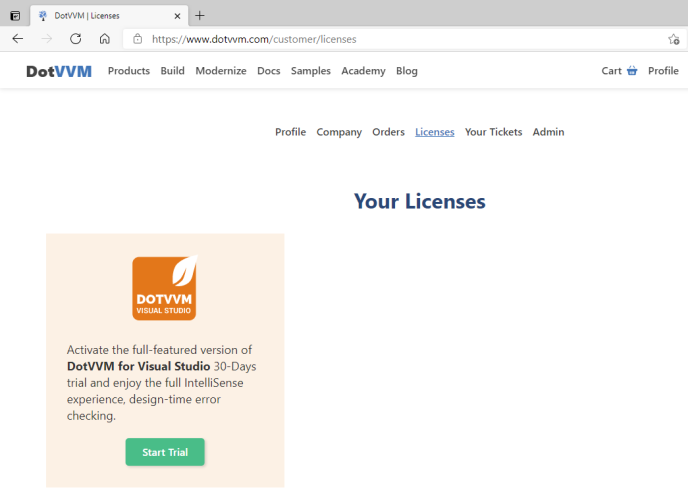 Click on the Extensions > DotVVM > About item in the menu bar, and sign in with the account you created on the DotVVM website.
If you need more time to test the features of DotVVM for Visual Studio, contact us - we'll be happy to help.
Install the extension
The extension supports the latest releases of Visual Studio 2022 and 2019. If you don't see the extension in the Extension Manager window, make sure you have installed the latest updates of VS.
Pre-release & older versions
You can download older or pre-release versions on the Release notes page.
See also