We are looking for Developer Advocate
Published: 10/28/2019 1:46:00 PM
Do you like programming, but also enjoy blogging, creating videos or public speaking? Have you ever thought about helping an open-source project to grow and find new users?
We have been working on DotVVM for more than five years and succeeded in building a small community of users. But for the entire life of DotVVM, we struggled to find enough time and energy to publish articles, create video tutorials, talk to people, or present DotVVM at conferences and community events.
That's why we start our journey to find our Developer Advocate (or more of them). We'd like to have someone who would be in contact with us and help us tell the DotVVM story to the broader community of .NET developers.
How can you help?
We don't expect to find a superhero who'd be able to do all of the following things, but if you'd like to help us with just one or two items from the list, we'll be happy!
Writing and publishing blog posts and tutorials
Taking care of our social networks (Facebook, Twitter, LinkedIn)
Recording videos or live streaming on our Twitch channel
Attending meetups, user groups or conferences and talking about DotVVM
Organizing DotVVM meetups or other types of community events
What you'll need?
Since DotVVM is a framework based on .NET, you will need to know Visual Studio, C#, and have some experience with web development (HTML, CSS, and JavaScript). But even more important than the actual knowledge of these languages and technologies is the ability to explain things to beginners.
Of course, we don't expect that you'll know DotVVM right away. We'll help you with learning it, and one of the first things you may help us with is to improve our learning materials and resources.
How will the collaboration work?
In all honesty, we don't have exact requirements. It depends on how much time and ideas you have.
No matter if you want to work full time, or publish an article on some interesting DotVVM topic occasionally, we are interested.
We are an open-source project, but all work is paid. We'll discuss the conditions with you individually.
Our offices are in the Czech Republic (Prague and Brno), but you can work from anywhere in the world - there are no limits.
If you are interested, drop us an e-mail to [email protected] - we'll be happy to hear from you!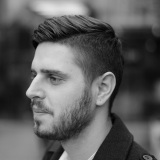 Igor Drgonec
I am project manager in RIGANTI, small software development company in Czech Republic. Also leading and coordinating DotVVM Developer Advocate program.