Free workshop: Modernize your Web Forms app using DotVVM
Published: 5/24/2020 4:09:56 PM
DotVVM offers a unique upgrade path to .NET Core for ASP.NET Web Forms developers. It allows you to integrate DotVVM framework into a Web Forms app, take ASPX pages one by one and convert them into DotHTML syntax, without the need to rewrite the business layer or build an API that would expose the data for the client-side code.
During the process, the application still works and can be deployed at any time. After getting rid of all Web Forms dependencies, it is possible to move the project to .NET Core.
The workshop was hosted on 11th June 2020 on Microsoft Teams.
We plan to repeat the workshop in the future – follow us on our Twitter or Facebook and stay informed about our further events.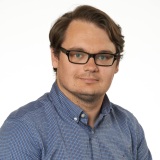 Tomáš Herceg
I am the CEO of RIGANTI, a small software development company located in Prague, Czech Republic.
I am Microsoft Most Valuable Professional and the founder of DotVVM project.