DotVVM and .NET Conf 2020
Published: 10/27/2020 9:24:02 AM
.NET Conf is a free, three-day, virtual developer event co-organized by the .NET community and Microsoft. This year .NET 5.0 will launch at .NET Conf 2020! Come celebrate and learn about the new release. We're also celebrating our 10th anniversary and we're working on a few more surprises. You won't want to miss this one.

Starting November 10 to November 12, be ready to enjoy influential speakers from the community.
This year the .NET Foundation is supporting community-run virtual events to help spread the word about the .NET 5.0 release.
Join us at DotVVM Virtual Event on November 16
The DotVVM team hosts an online event on November 16 at 2:00 PM UTC (3:00 PM CET).
Add to calendar
You'll see new features we've added to DotVVM, and we'll share our future plans:
Support of .NET 5
How easy it is to "Add DotVVM" into your legacy ASP.NET apps
What's new in DotVVM 2.5
Roadmap for DotVVM 3.0 - JS modules & client-side extensibility, validation improvements, web components and more!
You can find more information about .NET Conf 2020 here: www.dotnetconf.net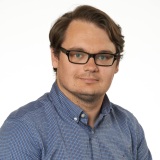 Tomáš Herceg
I am the CEO of RIGANTI, a small software development company located in Prague, Czech Republic.
I am Microsoft Most Valuable Professional and the founder of DotVVM project.