DotVVM joins the .NET Foundation
Published: 4/30/2019 4:00:00 PM
It has been almost 5 years since the first commit in the DotVVM repository on GitHub. Many things changed since then, including the name of the framework - originally, we called it Redwood. Even .NET Core didn't exist at that time – the first version of DotVVM supported only classic ASP.NET with OWIN.
During the years of development, we shipped the first stable version in July 2016, later added a support for .NET Core, and released DotVVM 2.0 with several major improvements a year ago. Along with that, we have built and maintained an extension for Visual Studio and introduced two commercial extensions to the open source framework – Bootstrap for DotVVM and DotVVM Business Pack. We have learned a lot of new things, and had a great fun during those five years. We spent more than 25 000 hours building the framework, all the tools and infrastructure around it.
That's why today is such a special day for us – we proudly announce that DotVVM has joined the .NET Foundation. The .NET Foundation is an independent organization that supports .NET-related open source projects which contribute to and expand the .NET ecosystem.
The foundation doesn't provide any financial support to the projects, but it provides guidance, mentoring, infrastructure, tools for package code signing, and most importantly – marketing. Every open source project needs a healthy community and feedback to succeed. We hope that thanks to the joining the foundation, more people will find about DotVVM, start using it and possibly contribute or help us with development.
Will something change?
In practical terms, not much. Far most contributions to DotVVM come from people working at RIGANTI, a company founded by Tomas Herceg, the founder of DotVVM. Regardless of joining the .NET Foundation, RIGANTI is committed to invest in further development of DotVVM as it uses DotVVM on many of its projects. We were always happy to see anyone from the community to join the DotVVM team, and contributions to DotVVM were never bound or restricted to any kind of relationship with RIGANTI.
However, I can't count how many times we got asked "What if RIGANTI, the company around DotVVM, decide to stop investing in it, or make it a closed-source project?" Of course, RIGANTI never planned do to anything like that, but some customers were still afraid there might be a small chance for this to happen.
By joining the .NET Foundation, there is now a guarantee that DotVVM will stay open source and independent. Anyone is welcome to join the development team, and naturally, RIGANTI will keep working on the project as it was doing for the last five years.
If you plan to contribute in DotVVM repository, you will need to sign a Contributors License Agreement. The .NET Foundation will help us automate this process so you will be asked automatically on your first pull request. Thanks to this, there will be a greater confidence that all contributions respect the open source license of the project.
We are really thrilled by this opportunity and hope that it will help DotVVM community to expand.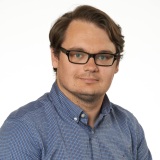 Tomáš Herceg
I am the CEO of RIGANTI, a small software development company located in Prague, Czech Republic.
I am Microsoft Most Valuable Professional and the founder of DotVVM project.